Jubilee Bridge in Matlock Bath set for £210,000 restoration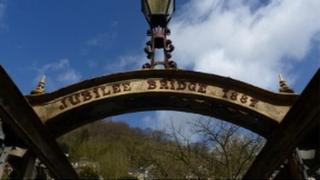 A Derbyshire council is set to spend £210,000 restoring a bridge to its Victorian former glory.
Plans to restore the Jubilee Bridge in Matlock Bath were put on hold last year because of scaffolding problems.
Derbyshire Dales District Council said the bridge, which opened for Queen Victoria's Golden Jubilee in 1887, should be open in time for the village's famous illuminations.
The work would guarantee the bridge for another 20 years, the council said.
Deputy leader Geoff Stevens said: "It's a lot of money but when you think about £210,000 over 20 years, it's an investment.
"We are making sure we pass on to the future generations a bridge that will be sound."
Original colour
The iron bridge links the promenade to a series of footpaths called the Lovers' Walks.
Work is planned to start in April, with the bridge closed until June.
A paint scrape has taken place to trace the original colour scheme and the entire bridge will be re-painted "mid-green" with a 20-year guarantee.
The council said all metalwork will be blast cleaned and safety checked as part of the restoration work.
Last year the Environment Agency feared scaffolding could not be removed quickly enough if the river flooded.
The council postponed the work because the delay meant the bridge would have had to remain shut for last year's illuminations.