Philpott fire deaths: Catch Me When I Fall group told to stop fund-raising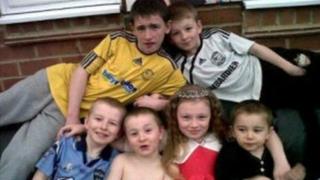 Police have asked a group to stop raising money in the name of Mick and Mairead Philpott's six children who died in a house fire in Derby in 2012.
The Catch Me When I Fall group was investigated when questions arose about where the money was being spent, but no evidence of wrongdoing was found.
Its founder Bobby Sutherland has agreed to stop fund-raising and said he can account for the money not yet spent.
He will inform police when the money has been distributed, police said.
Six-month investigation
Jade Philpott, 10, John, nine, Jack, eight, Jesse, six, and Jayden, five, died in the fire in Victory Road on 11 May 2012. Mairead Philpott's son from a previous relationship, 13-year-old Duwayne, died later in hospital.
The children's father, Mick, mother, Mairead and family friend Paul Mosley were jailed last April for their manslaughter.
Derbyshire Police said: "The man [Mr Sutherland] has been advised against further fund-raising in the name of Duwayne, Jade, John, Jack, Jesse and Jayden Philpott.
"He was not arrested and co-operated with the thorough police inquiries. No charges have been brought against him as no evidence of wrongdoing was found."
The spokesman added fund-raisers would now discuss what to do with the money in the account and inform police when it has been redistributed and tell them who had benefitted from it.
A six-month police investigation revealed several hundred pounds appeared to be missing from the group's account but, since there was nothing to suggest a crime had been committed, no action was taken.
'Children left out'
In August, members of the Philpott family, including Mairead's father Jimmy Duffy, called for the names of the dead children to be removed from the group's Facebook page.
But Mr Sutherland said the books were balanced and he was "disgusted" at how he had been treated as he only wanted to help local children.
He said in an earlier interview that £70 spent on a pub visit was "a legitimate food expense".
The group had contributed to the funeral of a young Derby boy and provided 500 wristbands in support of a boy recovering from leukaemia, he added.
Jennifer Lobban, Mairead Philpott's sister, said she was relieved the group had been told to stop using the names of the dead children on its website.
"We are still quite happy with the outcome - that he's been asked to stop using the children's names - that is all we are asking," Ms Lobban said.
"I just wanted the children left out of it".
The group's web page said it was a "tribute to 6 little angels. Will benefit poorly kids".