'Disturbing' Derby graveyard thefts investigated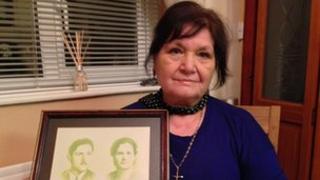 A series of "disturbing" thefts from a graveyard, including a bronze statue of the Virgin Mary thought to be worth £1,000, are being investigated.
Maria Woolley bought the statue for her mother's grave in the Nottingham Road cemetery in Chaddesden, Derby. She said the theft had left her "devastated".
Other items taken from graves since Christmas Day include a decorative bronze lantern.
Police may ask Derby City Council to install CCTV if the thefts continue.
Mrs Woolley, 65, said she was "so upset" by the theft.
"I don't like going on my own and seeing that made me feel even more devastated," she said.
"I was scared - I thought someone could be hiding somewhere."
PC Jodie Butler said she was "surprised" by the thefts, which were "obviously very sad for those involved".
"The cemetery is a place where people come to grieve and what's put on the graves is there for a reason," she said.
"For those to be taken away is very disturbing."