Stoney Middleton £3.5m tourism centre plan approved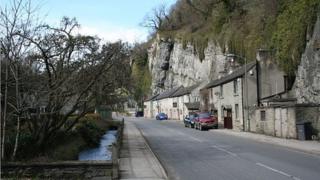 Plans for a £3.5m heritage centre and tourist accommodation in the Peak District have been approved.
The development will be built on the site of a former mineral processing plant and rural business park at Stoney Middleton near the A623.
It has been granted full planning permission by the Peak District National Park Authority.
The site, which includes a craft shop, cafe and training facility, could create up to 40 jobs, the council said.
Paul Ancell, deputy chair of the planning committee, said: "In making the decision, committee members had to balance the needs of the community with the protection and enhancement of the natural environment.
"We decided to make an exception to our normal policy in this case because the benefits of the redevelopment at Rockmill outweigh any landscape concerns on the site."
The council said the scheme would remove "unsightly buildings" and replace them with "high quality heritage-style buildings".
Developer Colin Hall said: "Without the support and involvement of local people we could not have brought the scheme forward."