North Wingfield house fire: Tyler and Jordan Green tributes paid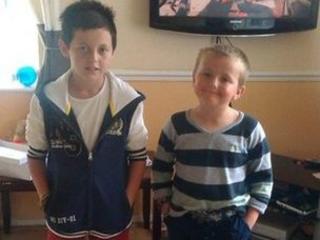 Tributes have been paid to two brothers who died along with their mother and another woman in a house fire.
Tyler Green, nine, and Jordan Green, 12, died in hospital after the fire in North Wingfield, near Chesterfield in Derbyshire, on Wednesday morning.
Their mother Josie Leighton, 32, and Claire James, 27, died at the scene.
The boys' head teachers said Jordan was "well liked" and "sociable" while Tyler was described as "quiet, thoughtful" and "considerate".
'Full of beans'
Val Fisher, head of the North East Derbyshire Support Centre in Hasland where Jordan attended, said: "He was well liked by fellow pupils and staff and always had a big smile on his face.
"He enjoyed all the activities, and loved being part of a team. He was funny and sociable. We will all miss him."
Simon Dormand, head teacher at North Wingfield Primary School, which Tyler attended, said the school was discussing a memorial to him.
He added: "Tyler was a valued member of our school community and we will all miss him.
"He was a quiet thoughtful, considerate boy who was polite and helpful. He had many good friends in school and in the community and this makes it all the more difficult to hear this news."
Lynn Leighton, the boys' grandmother, said all three would be "greatly missed".
"Josie was a lovely, loving daughter who had lots of friends," she said.
"Tyler was always happy. He loved life, he loved school and was always full of beans.
"Jordan was a real character. He loved his family, especially his grandma, and always had lots of friends."
'Tragedy and shock'
The fire service was called to the house shortly before 05:00 GMT on Wednesday.
Derbyshire Fire and Rescue Service area manager Kam Basi said firefighters "battled quite arduous conditions" in the house which was "heavily smoke-logged".
A police and fire investigation has started, but a cause has not yet been determined. It is not thought to be suspicious at this stage.
A post-mortem examination found all four victims died from smoke inhalation.
A seven-year-old girl who escaped from the fire was found in the garden suffering from smoke inhalation. She has been discharged from hospital and is now being cared for by relatives.
Richard Markham-Smith, 44, who lives in the street, said: "My heart goes out to the relatives and the girl who survived. I just cannot comprehend what she's going through."
Natascha Engel, MP for north-east Derbyshire said: "North Wingfield is a very close-knit community and everybody feels the devastation, tragedy and shock of this.
"I know they will be giving all the support possible to the families and the little girl."