Derby City Council plans for 350 job cuts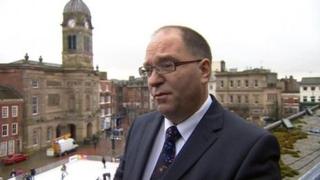 Derby City Council has said it is planning to cut about 350 more jobs.
The authority said it has to find savings of £81m over the next three years to balance its budget.
The city council leader Paul Bayliss said it was "very likely" the losses would have to be made through compulsory redundancies.
More than 1,200 jobs at the authority have been lost since 2010. The job cuts are due to be made by next March, the council has said.
The council currently has 3,230 full-time equivalent posts, not including those working in educational roles.
It said jobs across all departments were at risk.
Mr Bayliss said: "We're in a process that's very painful for everybody and it is very likely we'll be making more people compulsory redundant at the end of the budget process."
In a bid to save £29m in 2014/15 the authority has also said it was looking at getting someone else to pay for its Christmas lights.
Also, if its plans are approved bins would not be collected over the 2014 Christmas period and plans to build a 50m swimming pool could be delayed.