Philpott blaze house demolition work set to begin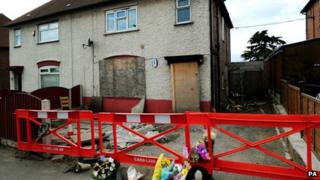 Demolition of a house where six children were killed in a blaze set by their parents Mick and Mairead Philpott, is due to begin.
The Philpotts were jailed in April, along with friend Paul Mosley, after being convicted of six counts of manslaughter.
The demolition work is expected to take about three weeks to complete.
Derby City Council said more housing will be built on the site of 18 Victory Road and the neighbouring house.
A council spokeswoman said: "Residents living in close proximity to the properties have been informed."
A petition had called for a memorial garden to be built on the site, but local residents and the council decided they did not want a permanent reminder.
The online petition calling for the garden was started by a man from Alfreton in Derbyshire - about 15 miles (24 km) from Victory Road.
Jade Philpott, 10, John, nine, Jack, eight, Jesse, six, and Jayden, five, were killed in the fire - 13-year-old Duwayne, died later in hospital.
Mick Philpott was jailed for life with a minimum term of 15 years after being convicted of six counts of manslaughter following a trial at Nottingham Crown Court earlier this year.
The trial heard Philpott used petrol to set fire to the house, in Allenton, in a bid to frame his mistress during a child custody battle.
His wife Mairead, 32, and Mosley, 46, were told they would each serve half of a 17-year sentence for their part in the plan to set fire to the property.
The city council took legal possession of the property earlier this year.