Derby fire deaths: Killers' families can never forgive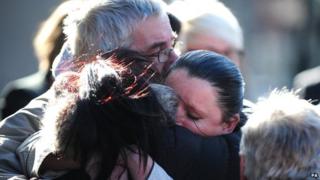 Relatives of Mairead Philpott and Paul Mosley, jailed for starting a fire which killed six children, said they can never forgive them.
The pair both had an application to appeal against their 17-year jail terms for manslaughter rejected on Monday.
Jennifer Lobban, Mairead Philpott's sister, and Paul Mosley's sister Angela Mosley told BBC Derby they were pleased with the decision.
They said the pair should have got longer for starting the fire in Derby.
Mick Philpott, Mairead's husband, has not tried to appeal against the life sentence he received for manslaughter.
Ms Lobban described Mick as "pure evil" and said 17 years for his wife and their friend Mosley was not long enough.
'She lied'
"Seventeen years is nothing. If you go and sit at that cemetery, [17 years] is nothing compared to what she's left behind," she said.
The jury at the trial in Nottingham was told the trio poured petrol on the floor and lit it to frame a former lover in a custody battle in May last year.
Ms Lobban said she would love to know what her sister's part was in the blaze.
"I would like to sit down with her and try and work out how she would do that but I don't think I would be trusted to be in the same room as her," she said.
But she added: "That's the only thing we will probably never know because she lied in a crown court.
"All the way through the trial she denied any part. Just so she can get her sentence reduced, she's admitted some guilt."
'Still my sister'
And she said Mick Philpott did not control his wife as much as was portrayed in the court case, saying she "had a mind of her own".
Ms Mosley agreed with Ms Lobban and said the pair should never have tried to appeal the sentence.
"We are feeling really, really joyful. I personally did not want them to appeal at all because as far as I'm concerned they didn't get long enough. They should have got 17 years per child,," she said.
Mairead and Mosley can renew their applications and ask a full court of three judges to give permission to appeal the sentence.
Ms Lobban said she believed her sister would try to appeal her sentence again but Mairead had cut herself off from the rest of the family since the fire because "we know she's guilty".
"She still is my sister, we grew up together. It's quite hard but she put her man before her children at the end of the day and she shouldn't have. She will have to pay for that," she said.