Peak District vehicle ban 'will spark illegal use'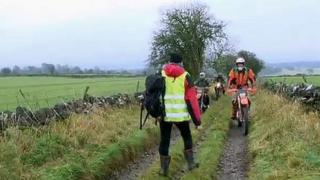 A ban on 4x4s and trail bikes using an unsurfaced road in the Peak District will lead to a surge in illegal use, campaigners have said.
The Peak District National Park Authority is to exclude vehicles from the 3.5km Roych, part of the Pennine Bridleway, near Chapel-en-le-Frith.
The Trail Riders Fellowship (TRF) said a ban would only encourage irresponsible riders to use the area.
The move follows a public consultation by the authority.
Mike Irving of the TRF said the absence of organised groups working to educate other vehicle users could have a negative impact on the environment.
'Tranquil area'
He said: "Illegal users will turn up in increasing numbers, with unregistered, uninsured and possibly stolen vehicles, which they will thrash up and down the road and across the surrounding countryside.
"Some vehicles are likely to be abandoned and burnt - it could end up looking like the set of a Mad Max movie."
The closure order is part of a long-running battle between the authority and vehicle users over the routes, known as "green lanes".
Earlier this year, the Peak District National Park Authority (PDNPA) had to reopen Chapel Gate, a nearby route, after a High Court ruling overturned the order.
More than 1,200 people have responded to the latest consultation in support of an order on the Roych - over 1,000 opposed it.
Former deputy leader of the Labour party Lord Roy Hattersley, who lives in the area, spoke out against the trail riders.
He said the Peak District should remain a peaceful, tranquil area of countryside.
Christopher Pennell, from the PDNPA, said: "The Roych is a very popular route with many different users but it crosses some of the most environmentally sensitive areas of the national park."
He said: "We considered partial regulation, but past attempts to restrict use by 4x4s and trail bikes has failed.
"The status quo was unacceptable and doing nothing was not an option."
A date has yet to be set for when the ban will start.