Nottingham hospital trust 'responsible' for dementia patient's death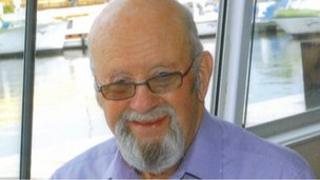 A hospital trust has admitted failings after a dementia patient died following a fall from his bed.
Peter Ryley, 76, of Long Eaton, Derbyshire died in January 2011 after staff at Queen's Medical Centre gave him extra doses of sedative.
His son Andrew said the family was devastated by the way he was treated.
Nottingham University Hospitals NHS Trust said it was putting new guidelines in place for sedating "agitated" patients.
'Danger to himself'
An inquest in September into Mr Ryley's death heard that medical staff failed to implement a risk assessment which would have prevented him from falling and seriously injuring himself.
It comes as the Care Quality Commission said Nottingham University Hospitals NHS Trust was one of six trusts marked as being high risk for patient care and one of the first to undergo a new inspection regime.
Andrew Ryley, 44, said: "Dad's dementia meant he did need a lot of care but rather than reassuring him and trying to keep him occupied, it came to light at the inquest that the medical staff just kept increasing his sedation levels.
"In the end he was practically delirious from all the drugs he had been given but no steps were taken by the nurses to prevent him from being a danger to himself.
"We have been left devastated by the way my dad was treated."
The inquest heard that X-rays showed he had suffered a severe brain haemorrhage. He died five days after his fall.
The trust's chief executive Peter Homa said: "I wish to reiterate the trust's sincere apologies to his family for the fatal head injury Mr Ryley sustained after falling in our care.
"We thoroughly investigated the cause of the fall and the family's concerns about his care.
"We didn't provide everything we would want to and we need to make sure we can learn from this and that it doesn't happen again."
He said the trust was implementing new guidelines surrounding the use of sedation and improving compliance with its falls management policy.