Derby dig unearths possible Roman settlement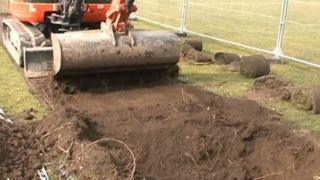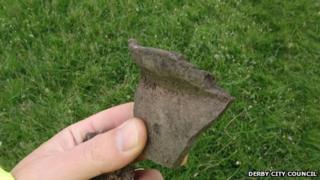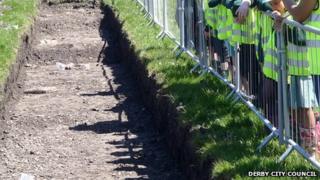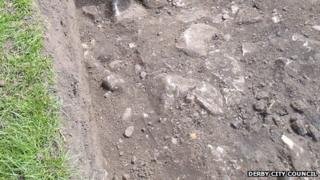 Archaeologists have uncovered remnants of a bath house and a Roman road in a previously undiscovered Roman settlement in Derby.
The dig, part of flood defence work along the River Derwent at Chester Green, began in April.
Other discoveries include the foundations of a number of buildings, shops and a skeleton.
The possible former Roman settlement has been unearthed on the southern part of Darley Playing Fields.
Further work
Talking about the find, Ed Wilson, the Environment Agency's senior archaeologist, said: "We are gradually painting a picture of life here by the River Derwent 2,000 years ago.
"We knew about the fort before but the exciting things for us is the remains of a series of buildings on either side of the road which are a cluster of shops that would have served the troops.
"It is sort of the equivalent of a Roman ribbon development here."
He said there was evidence of iron working hearth and lead working in the area.
"The area is full of Roman pottery, some of which is imported from France in the first and second century - they are quite distinctive and very easy to date.
"As the project moves forward we will be doing further archaeological work here and I'm really hopeful that we will find out a lot more about the local population who lived beside the Roman army."
He added the evidence suggested the fort dated back to AD70, just 30 years after the Roman invasion.
The Environment Agency plans to build a £35m flood defence system along the river at Chester Green in 2015.