Council rejects disabled man's Ramadan fast help plea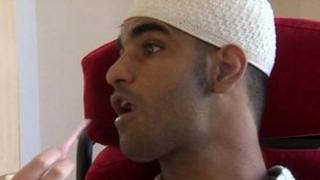 A disabled man who is unable to feed himself has said his local council is refusing to pay for two hours of extra care to help him fast during Ramadan.
Imraan Adam, from Derby, has cerebral palsy and is fed his meals by carers.
He said in order to fast between sunrise and sunset he needed additional help very early in the morning.
Derby City Council said his request was denied because of its "challenging" financial status and because he already got a "substantial level of support".
Mr Adam, who graduated from the University of Derby with a first class journalism degree, said: "I can't do anything with my hands and I need to be physically fed.
"It means I have to come up with the money myself - or I can't fast."
'Changing pattern'
He said it would cost about an extra £30 a day - the current weekly cost of his support is nearly £2,000.
In previous years the city council has paid for the extra care.
However, Councillor Mark Tittley said: "Given the extremely challenging financial position the council is in, and the substantial level of support Mr Adam already receives, it has not been possible to offer this extra support again this year.
"There is capacity in the support currently in place to adjust the timing and/or duration of calls to support the changing pattern of his day when observing Ramadan."
The authority said when assessing community care needs it was committed to taking into account cultural and religious needs.
Mr Adam is due to meet council officials on Tuesday to discuss the matter.