Plaque for George Herbert Lawrence razor 'fairy godfather'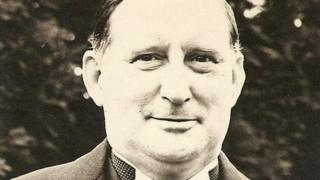 A razor blade manufacturer who donated a large amount of money to a Derbyshire village is to be honoured with a blue plaque.
George Herbert Lawrence made a fortune from the mass production of safety razors but invested his wealth into projects in Hathersage.
Mr Lawrence, nicknamed 'the fairy godfather', died when his Sheffield factory was hit by a bomb in 1940.
The plaque is due to be unveiled in Hathersage, on Friday.
Mr Lawrence's great nephew Geoffrey Meace said: "I am extremely happy that my great uncle's work and dedication have been recognised by the people of Derbyshire."
The much-admired businessman lived in Hathersage and his razor factory was in Sheffield, about 11 miles away.
However, his kindness and dedication to his staff were, ultimately, his undoing.
During World War II he had heard that bombs were being dropped near his factory where staff were working late.
He insisted on joining them and provided the team with food and drink.
But the building took a direct hit killing Lawrence and eight of his staff.
Councillor Ellie Wilcox, from Derbyshire County Council, said: "Lawrence was determined to use his money in his own lifetime to do the greatest good for the greatest number of people.
"He donated money to build a community swimming pool and tennis courts, a bowling green and a gymnasium, that earned him the nickname 'the fairy godfather of Hathersage'."
Mr Lawrence was nominated by Brian Ward following a public vote.
Frances Bush, George Herbert Strutt and Cromford Canal were all honoured with blue plaques earlier in the year and one dedicated to Florence Nightingale will be unveiled in the coming months.