Royal Derby Hospital boss admits A&E wait 'struggle'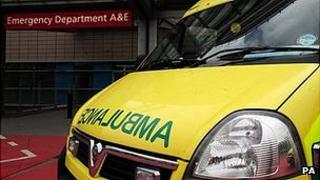 Bosses at a hospital fined nearly £250,000 for missing A&E targets have admitted they are likely to continue to struggle with demand.
Royal Derby Hospital A&E dealt with 93.2% of patients within four hours in the year to April - its target was 95%.
Managers said measures were being taken to deal with the current situation but surging demand was unlikely to slow.
Earlier this month MPs were warned A&E services nationally were on a "cliff edge" because of rising pressures.
The four hour benchmark target covers the time from when a patient enters A&E to when they leave the department, either to go home or to be admitted to the hospital.
A&E attendances have risen by 50% over the past decade and the Care Quality Commission has already said it believes the rise in demand is unsustainable.
In the year to April, the Royal Derby Hospital treated nearly 120,000 patients in A&E.
Director of Strategy and Partnership at Derby Hospital, Dianne Prescott, insisted while the fine, imposed by the newly formed NHS Southern Derbyshire Clinical Commissioning Group, would be reinvested in the hospital, the process was worthwhile because it "focused the mind".
But she admitted rising demand would continue to stretch the service: "It is likely we will struggle as we go because every so often we get ahead of the A&E target and we think we have solved that problem.
"Then maybe a year or so later we get into difficulties and that is because of changes in the system that affect whether we can keep ahead of the targets."
The hospital said it was increasing consultant hours in A&E and creating more intermediate care beds on the London Road site.
In addition it was planning an elderly assessment unit by September and investing £1.3m in community services to help prevent older people going into hospital unnecessarily.
Earlier this month NHS bosses told MPs a "perfect storm" of different pressures, including GPs, the 111 non-emergency helpline, the ambulance service and social care, was pushing hospitals to the limit.