Derby fire deaths: Paul Mosley to appeal over jail term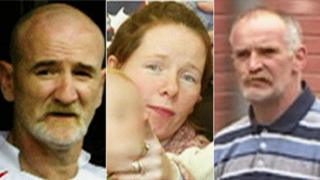 Paul Mosley, jailed for his part in the deaths of six children in a house fire, is to appeal against the length of his jail term, his legal team has said.
In April, Mosley was given a 17 year sentence for the manslaughter of the children in Derby last May.
Their mother, Mairead Philpott, who was given the same term, has also said she will appeal against her sentence.
Mairead's husband, Mick Philpott, is serving a life sentence with a minimum term of 15 years.
Jade Philpott, 10, and brothers John, nine, Jack, seven, Jesse, six, and Jayden, five, died on the morning of the blaze on 11 May 2012.
Duwayne, who was 13, died three days later in hospital.
'Heartbreaking bit'
Mosley's brother Brian said he was disappointed by the news.
He said: "They are not leaving these children to rest. That's the heartbreaking bit - bringing it all back up again.
"If he's had a fair trial - which he did - he had his chance in court - not one of them should be allowed to appeal."
He added: "The majority of people all think they should have got longer and so do I.
"I knew the children very well - God bless them - and in my eyes he should have got 17 years per child."