Derby fire deaths: Mairead Philpott to appeal against jail term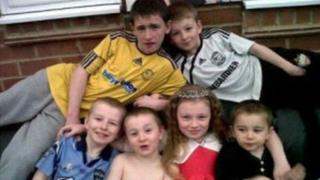 A lawyer for Mairead Philpott, who killed her six children in a fire, said she would appeal against her jail term.
Philpott and her friend Paul Mosley will serve half of their 17-year sentences for manslaughter. Her husband Mick was given a life sentence.
Shaun Smith QC, Mairead's barrister, admitted she was "instrumental in the killing" but not to the extent the judge said.
The six children died after a fire at their Derby home started by the trio.
Jade Philpott, 10, and brothers John, nine, Jack, seven, Jesse, six, and Jayden, five, died on the morning of the blaze on 11 May 2012.
Duwayne, who was 13, died three days later in hospital.
Mr Smith, who represented the mother in the trial at Nottingham Crown Court earlier this year, said her sentence was too long.
"She was instrumental in killing six children but we feel as though her role in the deaths was not as substantial as the trial judge has assessed," he said.
"We will have to wait and see what the Court of Appeal say."
In passing sentence on Mairead Philpott on 4 April, Mrs Justice Thirlwall told her: "These were your children. Your first responsibility, surely, was to them.
"The risks were obvious and overwhelming and anyone who has heard the harrowing wailing from you on the 999 call can hear your realisation that this had gone horribly wrong and your children were in mortal danger.
"But by then it was too late and you bear your responsibility for that.
"You put Michael Philpott above your children and as a result they have died."
'Very vulnerable'
Mr Smith was talking in an interview with BBC Radio Nottingham and he described his first meeting with Mairead Philpott when he was assigned to her defence.
"She was very scared, she was very vulnerable. She was clearly someone who had been in a horrendous relationship, as the court heard," he said.
"She was someone who was quite frankly in the wrong place at the wrong time.
"It was a very upsetting case for everybody involved. I think it took a little piece out of me."