Bakewell custard pie fight 'too risky'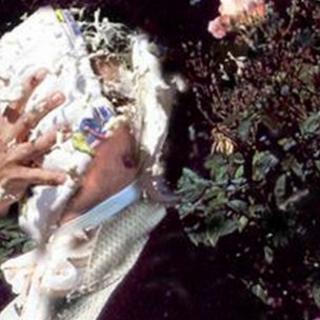 A custard pie fight at a Derbyshire baking festival has been ruled "too risky" by insurance companies.
The fight was due to provide a "show-stopper" end to Bakewell's first baking festival, to be held on 8 to 9 June.
However, the town's mayor Paul Morgans said he has been unable to insure the fight, despite contacting several companies, and now faces cancelling it.
A spokesperson for the insurance industry said sometimes companies did not want to take on riskier events.
'Faces dropped'
The fight was due to take place on the town's recreation ground which is owned by Derbyshire Dales District Council.
Mr Morgans said: "We've got insurance for the festival. However, when I asked our brokers about covering the custard pie fight, their faces dropped and they said there may be a bit of an issue.
"It's foam on a paper plate. I really don't understand it.
"We're now looking for separate insurance for this event but despite trying several companies I've drawn a bit of a blank."
The pie fight was intended to involve 10 teams of up to six people, aged 18 and over.
It was due to be named "Pies and Prejudice" in honour of the 200th anniversary of the publication of Jane Austen's novel.
Each team would include a member dressed as the character Mr Darcy. The team with the cleanest Mr Darcy at the end of the fight would be declared winners.
Mr Morgans is now appealing on social media to see if a company is willing to insure the fight.
"We haven't given up on it," he said. "The rest of the event will go ahead as planned but we really want it to be as we envisaged."
The two-day festival will include masterclass demonstrations, 1950s bus rides and a Mad Hatter's tea party.
A spokesperson for the Association of British Insurers said: "Each insurance company makes their own decision based on the risks and sometimes companies will not want to take that risk."
The council said the festival's organisers - the Bakewell Partnership - were responsible for any damage to the recreation ground.
A spokesperson said: "As you'd expect, to protect our local council taxpayers the licensee agrees to take full responsibility for any damage caused to the district council's property.
"The way the licensee covers this liability is between them and their insurer."