Belper fire: Asbestos was released from former Thorntons site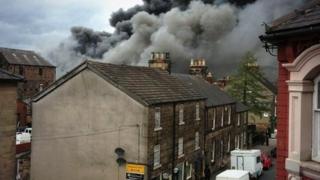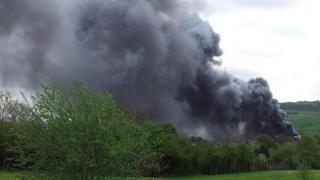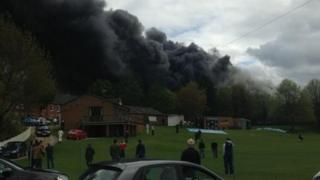 Council officials in Derbyshire have confirmed residue left by a fire at a disused Thorntons factory is asbestos.
A blaze and a series of explosions at the former chocolate maker's site in Belper on Friday are believed to have been caused by burning aerosol cans.
A 19-year-old man was arrested and has been released on bail.
Amber Valley Borough Council said although asbestos fibres could be harmful in high quantities, there was no high level exposure in the area.
'Thick, black smoke'
In a statement, the council said: "This material has been tested and is now confirmed as containing Chrysotile (white asbestos).
"The asbestos fibres are contained within cement compound and are only released when the panels are broken up.
"Respirable fibres - fibres that can be breathed in - are therefore thought to be a small fraction of total material released."
During the blaze at the site in Derwent Street some people in the area said they could not see where they were going because of the thick black smoke.
A county cricket match being played nearby also had to be abandoned.
Amber Valley District Council added clean-up procedures were taking place and if residents did find anything that might be asbestos, they should avoid touching it and contact the council.