Man arrested over Thorntons fire in Belper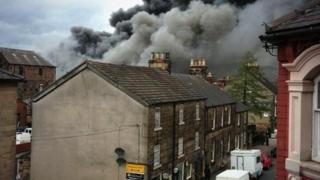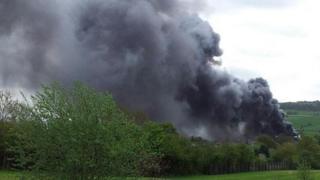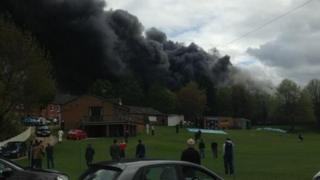 A man has been arrested in connection with a fire at a disused Thorntons factory in a Derbyshire town.
A blaze and a series of explosions at the former chocolate maker's site in Belper were believed to have been caused by burning aerosol cans.
Police said a 19-year-old man was arrested on Saturday and has since been bailed pending further enquiries.
Residents are being warned not to touch a thick grey/white material which blew across the town in case it is asbestos.
Thick black smoke
A spokesman for Amber Valley Borough Council said: "The council is not sure what this material is but there is a suspicion that it could be asbestos, which is hazardous.
"In the interests of public safety, this material is being treated as asbestos until it can be determined exactly what it is."
Samples of the material have been taken and the council expects to have the results by the end of Monday, when they will be published online.
People can contact the authority to arrange collection of the material.
During the blaze at the site in Derwent Street some people in the area said they could not see where they were going because of the thick black smoke.
A county cricket match being played nearby also had to be abandoned.