Officers still unclear after Nathan Pick admits baby death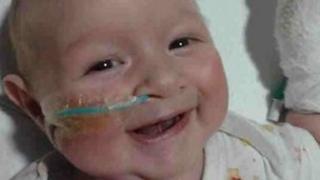 Police say they are still unclear what happened to a seven-month-old boy after his father admitted manslaughter.
Nathan Pick, of Waterford Drive, Derby, was charged with murdering James-Lee Riley Pick last May which he denied.
He pleaded guilty to a lesser charge of manslaughter on Wednesday.
Det Ch Insp Phil Cox said it was "frustrating" not knowing how James-Lee died. Pick will be sentenced at Nottingham Crown Court on Friday.
Still unclear
"For the last year Nathan hasn't admitted to exactly what happened," said DCI Cox.
"At court on Wednesday it was the first time Nathan had admitted responsibility. Having said that he still hasn't said exactly what happened and it might come out in court."
DCI Cox said Pick had been alone in the family home with his son James-Lee when the injuries occurred.
He said the father had called emergency services himself and the boy was taken to the Royal Derby Hospital with head injuries.
He was later transferred to the Queen's Medical Centre in Nottingham, where he died.
DCI Cox added: "The family have lived for a year without knowing what happened on that day and at least now they can get some closure and realise that Nathan has admitted to what he did.
"No matter what sentence the judge imposes he has to live with the fact that he has killed his own son."