Ramblers back Kinder Mass Trespass visitor centre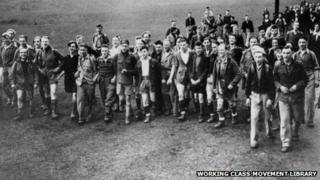 Ramblers are supporting a campaign for a permanent visitor centre to mark a famous mass trespass in the Peak District.
In 1932, hundreds of ramblers walked on to private land on Kinder Scout in Derbyshire to assert their right to walk freely across the countryside.
After what became known as the Kinder Mass Trespass, five men were arrested and imprisoned for "riotous assembly".
The centre would be created in Hayfield - where the trespass began.
Kate Ashbrook, president of the Ramblers' Association, said: "This is a magnificent memorial to the brave Kinder trespassers who blazed the trail to freedom to roam.
"It is vital that future generations appreciate what the trespassers achieved for them, and the Hayfield centre is a fitting reminder to us all."
The scheme, organised by The Kinder Visitor Centre Group, is also backed by climber Sir Chris Bonington, and Roy Hattersley, former deputy leader of the Labour Party, and Peak District enthusiast.
John Harvey, chairman of the group, said: "This is a heritage topic of national and regional importance which merits being developed into a significant visitor attraction."
In 2012, the group was awarded £18,000 by the Peak District National Park's sustainable development fund to bring together copies of articles, official records and photographs.
Gathered material includes an account by Benny Rothman, who led the walkers up Kinder Scout - which in the 1930s was used to keep grouse for rich landowners.