Peak District: Chapel Gate vehicle ban cost £100,000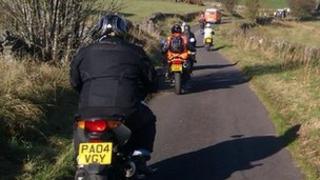 A vehicle users' group has criticised the £100,000 spent on plans to ban 4x4s and trail bikes from some Peak District roads.
The Peak District National Park Authority (PDNPA) spent the money on legal costs and staffing.
In December 2012 a PDNPA order banning 4x4s and trail bikes from an unsurfaced lane was overturned by a High Court judge.
The authority said the project helped "conserve the landscape's beauty".
"It's a lot of money," said David Sparkes, from Matlock, a member of the Peaks and Derbyshire Vehicle Users Group (PDVUG).
"If the authority felt national park users are coming into conflict with each other over road use, they could have spent that money on improving signage or access."
Vehicle ruts
Mr Sparkes was speaking ahead of a meeting of the authority's audit resources and performance committee on 3 May.
The committee will decide whether to start consulting on plans to ban motor traffic on Chapel Gate, a 3km route from Edale to Chapel en le Frith, and 34 other unsurfaced roads and lanes.
The authority has said vehicle ruts and mud are a deterrent to walking, cycling and horse-riding.
Members of PDVUG will also be present to comment on the plans.
The route has been monitored since an experimental order to ban vehicles was overturned in the High Court.