Local elections 2013: Why stand for the Monster Raving Loony Party?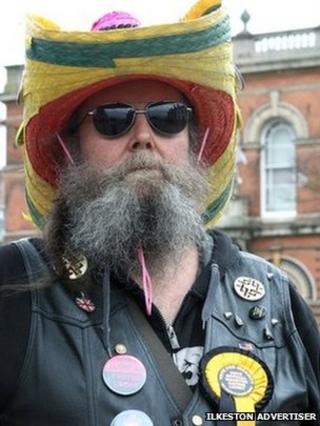 In Thursday's county council elections, most candidates will be hoping for a few hundred votes but one man from Ilkeston will be happy with just two.
And one of them will be his own ballot paper.
He is Whopping Lord Foghole and seeks election to Derbyshire County Council on a Monster Raving Loony Party ticket, in the Ilkeston East division.
Asked what reaction he is getting on the campaign trail he said: "None, I'm disabled. I'm just going down the pub, giving out flyers and hoping the message is passed on."
Despite taking his name from a competitor in a farting - or crapitation - contest on a Canadian radio comedy in the 1940s, he has some surprisingly sensible ideas.
Lord Foghole, or Jonathan Daniel as he is more commonly known, would like to see money generated in Ilkeston stay in Ilkeston, rather than back to the neighbouring cities of Derby and Nottingham.
He wants better investment in local infrastructure, grants to flagging businesses and is keen to introduce an Ilkeston-only currency, similar to the Lewes Pound and the Bristol Pound.
And he candidly admits he cannot do anything about immigration or the EU because that's a government issue.
But, naturally, everything he offers is tinged with his own brand of comedy.
For example, traffic wardens will be renamed valets and will help people park their cars rather than issuing tickets and the mayor will be called Wee Wee Willy Winky.
Of course he knows he stands no chance of winning, but Lord Foghole said he would be interested to find out how much he spent per vote gained compared to the winning candidate.
"I've not had to put down a deposit, so it's not cost much. Maybe a bit of printing and some shoe leather - and not much of that because I can't walk far," he said.
"At the end of the day I'm doing something a bit different and a bit of fun. I'm looking forward to it."
There are four other candidates vying for votes in the Ilkeston East division.
Rachel Allen, Lib Dem, said: "The fact that anyone feels they can stand on whatever ticket is good for democracy. It means people are taking an interest in politics.
"Having someone from the Monster Raving Loony Party stops the main political parties taking themselves too seriously and it adds a bit of colour to the event."
Councillor Glennice Birkin, the Labour candidate, said: "I support Labour's strong policies to get Derbyshire back to work supporting existing businesses, encouraging more ward investment and the living wage, and safe guarding the elderly and vulnerable people.
"I am not wasting my time thinking about other candidates."
Kevin Miller, Conservative, said: "I am extremely confident, I've worked the area very hard. Nationwide it is being predicted that the Conservatives are going to suffer but that's not something being reflected on the doorstep."
Alan Graves, chairman of Central and South Derbyshire UKIP, said the Ilkeston East Candidate Brendan Berry was getting a positive response on the campaign trail.
He added: "Our canvassing on the doorstep has revealed we are taking votes from traditional Conservative voters, traditional Labour voters and traditional Lib Dem voters.
"We are appealing to a cross section of people because we are different and we have commonsense policies."