Opening for new £22m Co-op centre in Derbyshire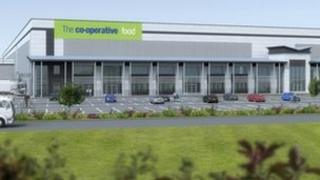 A £22m distribution centre for the Co-operative shops is to be officially opened in Derbyshire later.
The company said the site located in Castlewood, South Normanton, will create 300 new jobs and employ more than 1,000 people.
Steve Murrells, chief executive of The Co-operative Food, said the opening of Castlewood marked a "major milestone" for the firm.
The Co-op said they received more than 2,200 applications for the new jobs.
The distribution centre will take over the work of two smaller Co-operative food depots in the region.
Transferring staff
The centres in Venture Way, Alfreton, and Bulwell, Nottingham will close, with most of the 740 workers based at the sites transferring to the new warehouse.
The distribution centre will be fully operational by October serving Co-op food stores in Yorkshire, Derbyshire, Nottinghamshire and Lincolnshire.
In January the firm announced plans to close nine homes and fashion department stores across Derbyshire, putting 241 jobs at risk.
The stores will close later this week with some staff being relocated to other parts of the business.