Derbyshire Peak District crag closed to protect ravens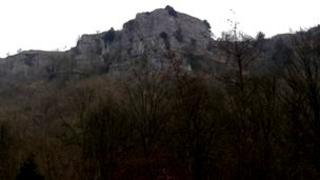 Mountaineers have described a climbing ban in the Derbyshire Dales as "draconian".
Natural England said it had banned climbing in Ravensdale to protect breeding ravens.
But Henry Folkard, from the British Mountaineering Council, said it was unnecessary to close the entire crag.
Natural England said the decision was not taken lightly and it could be the first time ravens have bred at the site in "some years".
Ravensdale forms part of a National Nature Reserve, which was declared in 1972 and is managed by Natural England.
The reserve attracts around 200,000 visitors a year and the crag is popular with climbers.
The crag was closed to climbers in the middle of March.
The British Mountaineering Council (BMC) said they were happy to agree to restrictions to protect the birds but wanted Natural England to choose the least restrictive option.
"We respect they are the landowners and they can do what they want but it is a National Nature Reserve held by a public body for the public and they should have a more progressive attitude," said Rob Dyer, the BMC's access and conservation officer.
Henry Folkard, the BMC's volunteer coordinator for the Peak District added: "To close the whole of the crag off is draconian.
"It's not just a little lump of rock. It's a series of buttresses about a quarter of a mile long."
However, a spokesperson for Natural England said: "The nest site is not well hidden and is vulnerable to even moderate disturbance which is why we've chosen to put the restriction in place.
"The restriction is temporary - chicks generally take around 45 days to fledge.
"We believe that there are chicks this year and once we have confirmed their presence we'll be in a position to say when the restrictions might be lifted."