Derby fire deaths: Lanterns lit for Philpott children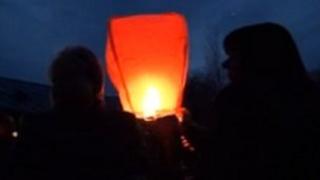 About 200 people have lit lanterns in a park in Derby in memory of the six Philpott children killed in a house fire in the city.
Parents Mick and Mairead Philpott were jailed on Thursday with their friend Paul Mosley for starting the fire which killed the children last May.
On Sunday Derby City Council said the house was to be demolished.
People gathered in Osmaston Park during the evening to light dozens of lanterns in memory of the children.
Jade Philpott, 10, John, nine, Jack, eight, Jesse, six, and Jayden, five, died on the morning of the fire in Victory Road on 11 May. Mairead Philpott's son from a previous relationship, 13-year-old Duwayne, died later in hospital.
Mick Philpott, 56, was given a life sentence for manslaughter and told he would serve a minimum of 15 years in prison.
Mairead Philpott, 32 and Mosley, 46, were told they would each serve half of a 17-year sentence.
The city council has said it is in the process of buying the house and will demolish it when the sale is completed.
Ward councillor Baggy Shanker said it could either become a memorial to the youngsters or be used for new housing.
Neighbours in the area will be asked what they would like in its place.
"There are some in the community who would like us to create a memorial garden for the children," Mr Shanker said.
"But there are many who don't want the memory of what happened so close to home, what they would like to see is more residential."