Sinfin incinerator challenge in court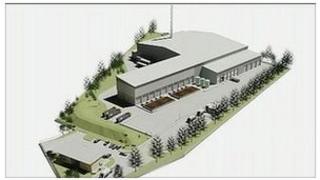 Plans for a waste incinerator in Derby have been challenged by environmental campaigners in the High Court.
The site on Sinfin Lane, which would burn more than 190,000 tonnes of waste a year, was first proposed in 2009.
Friends of the Earth and a residents' group claim emissions could harm the health of those living nearby.
A judge sitting at the court in Manchester on Friday heard submissions from both sides and is expected to make a ruling in the next month.
Public inquiry
The two groups have opposed a planning inspector's decision to approve the plant.
The facility is part of a 27-year waste management agreement between the city and county councils and private firm Resource Recovery Solutions (RRS).
RRS said the plant could be built and operated without "significant risk" to public health.
The plant would slowly heat material to produce a gas that could be burned to create electricity.
It has faced consistent opposition from campaigners, including the Sinfin, Spondon and All Against Incineration (SSAIN), but finally got the go-ahead in September after a public inquiry.
Simon Bacon, chairman of Sinfin, Spondon and all Against Incineration (SSAIN), said the judge will rule on whether the plant is mainly a disposal facility or a recovery facility.