Derby death blaze trial told the fire 'would have roared'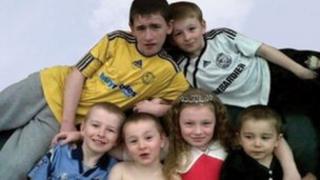 The fire in a Derby house which left six children dead would have "roared" as it ripped through the family home, a court was told.
Fire investigator Mat Lee told the trial of Mick and Mairead Philpott and friend Paul Mosley the blaze was started in the hallway.
He added that he was "satisfied" it was started deliberately and that he could not find any trace of petrol outside.
All three of the accused deny six counts of manslaughter.
Jade Philpott, 10, John, nine, Jack, eight, Jesse, six, and Jayden, five, died in the fire at their home on Victory Road in Allenton, Derby, last May.
Their brother Duwayne, 13, died later in hospital.
'Whooshing noise'
Mr Lee was the investigating officer from Derbyshire Fire Service who arrived at the scene after the fire had been extinguished.
Using a specially trained sniffer dog, he found petrol in the carpet of the hallway but none outside.
He said: "I would expect it to make like a well-stoked, chimney-fire noise and some roaring as it spreads up the staircase.
"I would have expected to hear a whooshing noise on the ignition of the petrol vapour or gas."
The jury was told the fire spread up the stairs, helped by an open window at the top of the landing.
Family fingerprints
The court also heard from fingerprint expert Andrew Price, who examined a window frame from the front of the house.
He identified two fingerprints on the plastic that belonged to 31-year-old Mrs Philpott.
Prosecutor Richard Latham QC asked him: "The marks are consistent with being left by Mairead Philpott doing what?"
"Either leaning through the window or climbing through it," he said.
Mr Price told the court he believed the prints were made when the window was open but it was not possible to age a fingerprint.
Other prints were also found on the window, including some belonging to the children and other family members.
The prosecution claim the children's deaths were the result of a botched "plan" to frame Mr Philpott's former mistress Lisa Willis.
The trial continues.