Sinfin Community School to be made an academy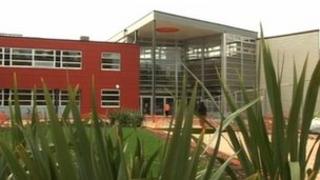 A Derby school which was in special measures for a year is to be turned into an academy, despite opposition from teachers and the local authority.
Secretary of State for Education Michael Gove has approved the plans for Sinfin Community School following responses to a consultation.
He said half of respondents agreed the school should become an academy.
However, the National Union of Teachers (NUT) says the government has "ignored" teachers and Derby people.
Mr Gove set out his plans to turn the school, which has around 900 pupils, into an academy last year and replaced the governing body with an interim executive board to monitor its performance.
This followed concerns over an Ofsted report in 2010 when results fell below the minimum standard of 35% of pupils gaining at least five A* to C grades including English and maths.
Under performance
Following Monday's decision a spokesperson for the Department for Education said: "The Secretary of State has carefully considered the interim executive board's report and the consultation responses. More than half of the respondents to the consultation agreed that the school should become an academy.
"He also took into account the long history of underperformance at Sinfin Community School and the fact the school has been in special measures for a year.
"He has decided that to deliver the improvement needed, the school should be converted to a sponsored academy under the leadership of the Greenwood Dale Foundation Trust."
The Trust, a not-for-profit educational charity, also runs schools in Mansfield, Leicester and Nottingham Girls' Academy.
It is believed the conversion will be complete later this year.
Failed to listen
Nick Raine, regional officer for the NUT, said staff were "deeply saddened" by the decision.
He added: "Michael Gove has imposed his decision on the school, the council and the people of Sinfin and Derby. He has done this against the wishes of these people and failed to listen to the teachers who did not want this to happen.
"He has offered no evidence that becoming an academy is going to improve the school, in fact it has been improving for years and this year students achieved 56% A* to C grades in English and maths, which is a significant improvement."
Mr Raine said the NUT would now work closely with the Greenwood Dale Foundation Trust to keep jobs secure.