Derby fire deaths: Children told police of 'threats'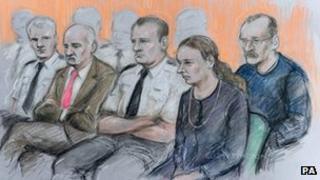 A man accused of killing six of his children in a fire asked some of them before the incident to talk to officers about alleged threats, a court heard.
PC Sharon Atwal said she went to see Mick Philpott after he claimed that his former mistress Lisa Willis had threatened him in a phone call.
She told Nottingham Crown Court that he asked the children to line up military-style in their Victory Road home.
She said one child told her: "They said they were going to kill daddy".
Asked to clarify who they were referring to, the child replied "Lisa", PC Atwal told the jury.
PC Atwal told the court she was not comfortable talking to the children because proper procedures had to be followed.
The officer said Mr Philpott punched the air and started to cry when he was told that police did not plan to arrest Miss Willis.
Shortly afterwards, Philpott became unwell, the officer said, and suffered an angina attack for which his wife Mairead had to bring a medicated spray.
Mr Philpott, 56, Mrs Philpott, 31, and Paul Mosley 46, deny manslaughter of the couple's six children.
The three are accused of starting the blaze at the Philpotts' home in Victory Road, Allenton, Derby.
Jade Philpott, 10, and her brothers John, nine, Jack, eight, Jesse, six, and Jayden, five, died in the fire. Their brother Duwayne, 13, died three days later in hospital.
The trial continues.