Shrovetide football game ends with honours shared
13 February 2013

From the section

Derby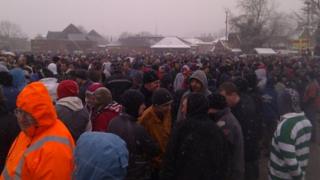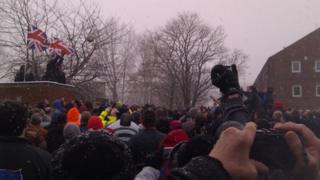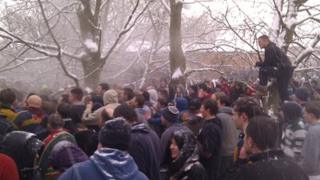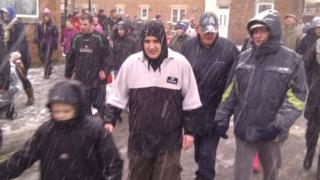 A Derbyshire town's annual Shrovetide event, which sees hundreds of people taking part in an unruly football game, has ended with honours even.
The game, which takes place in Ashbourne, is thought to date back more than 1,000 years, although records only date back to 1890.
On Tuesday, hundreds watched the first day's play, which ended with the Up'ards one goal ahead.
But the Down'ards' James Carter goaled at Clifton to take Wednesday's game.
The two sides are defined by which side of the River Henmore their players are born.
The game, which is played over two days, dates back to the Middle Age and has been described as a disorganised rugby scrum.
The 2013 event began when local builder John Tompkinson "turned up" the ball at 14:00 GMT on Shrove Tuesday.
Dave Spencer was said to have been the first goaler of the day at Sturston - shortly after 21:00 GMT.
Tap three times
Local butcher Nigel Brown "turned up" the ball on Wednesday and Carter's goaling ended the game at around 19:45 GMT on the second day.
Hundreds of players for each side battled in the streets to get the hand-painted cork-filled ball to goals three miles apart.
The goals are mill wheels set in huge stone plinths on the banks of the Henmore Brook at the sites of two former mills.
To score, a player must stand in the Henmore and tap the ball three times against the wheel.
Scoring means you will be carried back into the town by your team shoulder high and cheered by hundreds of spectators.