Child fire deaths: Michael Philpott 'hit mistress'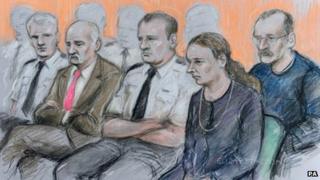 A father accused of starting a house fire which killed six of his children was violent towards his live-in mistress, a jury has been told.
Michael Philpott, along with his wife Mairead, and friend Paul Mosley, deny the manslaughter of the six children in Derby on 11 May.
It is alleged they started the fire to frame Mr Philpott's former mistress Lisa Willis during a custody battle.
Ms Willis said Mr Philpott hit her with a piece of wood in front of her child.
This incident had followed an argument over who fathered her first child, who was born before she started living with Mr Philpott and his wife.
'Shocked and disappointed'
Giving evidence from behind a screen at Nottingham Crown Court, she said: "He hit me with a two by two piece of wood.
"He hit me on the leg, back and arms. He did it about 10 times.
"I was shocked and disappointed."
The 29-year-old told the court she met Mr Philpott, now 56, when she was 17 and had one child at the time.
Ms Willis said she moved into the Derby home shortly afterwards and the pair started a sexual relationship, with the knowledge of Mairead.
The Philpotts were not married at the time, and Ms Willis was later a bridesmaid at their wedding.
He would take it in turns to spend the night with his wife and then her, Ms Willis told the court.
The three adults lived in the three-bedroom council house with 11 children.
Six children were those of Mr and Mrs Philpott and four were his children with Ms Willis. Another child was Ms Willis's with another man.
Ms Willis told the court all her income support, child benefit and wages from her part-time cleaning job were paid into Mr Philpott's bank account.
"If I wanted to leave he would ask me where I was going, why, and how long for," she said.
She never had her own house keys or bank account and Mr Philpott kept her provisional driving licence, jurors heard.
He accused her of having several affairs, she said, and she remembered him throwing a cup of coffee over her.
Jeremy Kyle appearance
Under cross-examination Ms Willis said the violence towards her was not frequent and Mr Philpott was never violent towards the children.
Ms Willis said she also had a sexual relationship with Mr Philpott's eldest son from a previous relationship, towards the start of her relationship with Mr Philpott.
Anthony Orchard QC, representing Mr Philpott, asked Ms Willis about the family's television appearance on ITV's The Jeremy Kyle Show and in a documentary with the MP Ann Widdecombe.
Mr Orchard said: "Mr Philpott was being lambasted as a benefits scrounger. You were seen as a shameless family. It was a horrible time, wasn't it?"
"Yes it was," Ms Willis said.
Ms Willis said she eventually fled the home on 11 February, by pretending to take her five children swimming.
'Continuous texts'
Mr Philpott then called her and texted her continuously, she said.
She told the jury: "He just kept ringing and texting asking what he had done wrong and why had I done this to him."
At the beginning of May she received a call from police.
"They said apparently I had made a phone call to Michael Philpott threatening him and his family," she told the court.
But Ms Willis said she had never made any threats.
On the morning of the fire Mr Philpott and Ms Willis had been due to attend a court hearing to discuss residency of the children.
Jade Philpott, 10, and her brothers John, nine, Jack, eight, Jesse, six, and Jayden, five, all died after the fire engulfed their home in Victory Road, Allenton. Their brother Duwayne, 13, died three days later in hospital.
Mr Philpott, 56, and Mrs Philpott, 31, both formerly of Victory Road, Allenton, and Mr Mosley, 46, of Cecil Street, all Derby, are charged with six counts of manslaughter; one for each of the children.
The case continues.