Derbyshire County Cricket Club to improve County Ground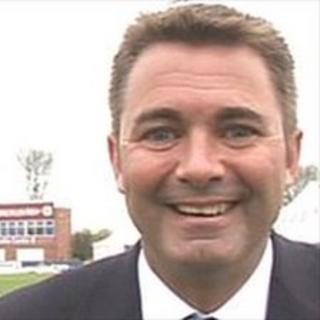 Derbyshire County Cricket Club plans to spend £2.5m improving its ground in the hope it can host a World Cup game.
The ground improvements are part of a six-point plan for the club, which also includes creating a new management board.
Club chairman Chris Grant said it would be "great for Derbyshire" if the County Ground could be one of the 2019 World Cup venues.
The redevelopment will centre on a new members' pavilion and media facilities.
"We really should be able to create a much better experience down there," said Mr Grant.
"This is all designed to take us to 2019 when England actually host the next Cricket World Cup and they will choose 12 to 14 venues for that Cricket World Cup around the country.
'Something special'
"We've been one in the past. We really do need to do this, to put in place the infrastructure at the ground to ensure that we are on the list to host an international game then.
"That would be really something special for us."
Redevelopment money would come from the England and Wales Cricket Board and from Derby City Council.
Mr Grant said the club needed a "more streamlined management structure" in order to move forward.
Chief executive Simon Storey said: "Our primary objective as an off-the-field team is to engage effectively with sponsors, members, supporters, conference customers and the wider community of Derbyshire."