Lois Preston hang-gliding crash: Inquest verdict of accidental death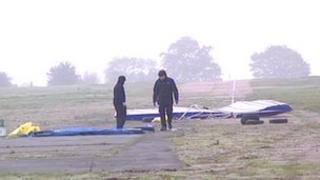 A teenager who died on her first day of solo hang-gliding may have crashed because she was so determined to get things right, an inquest has heard.
Lois Preston, from Warrington, Cheshire, died in hospital after the accident in Derbyshire in October 2011.
The 16-year-old believed she had made an over-correction on her first flight the same day, the inquest heard.
Her instructor said she may have done the opposite on the next flight by staying still and not correcting.
Her instructor, Judith Leden, said: "It's the only explanation I can come up with because she was so good and she had proved on her first flight that she was very capable of flying the glider.
"I can only think she was compensating for that first flight."
'Absolutely flawless'
Mrs Leden said that following that flight, Lois thought she had over-corrected a small amount of oscillation and told her: "I know what I did wrong and it won't happen again."
But Mrs Leden told the inquest that Lois's first flight was in fact "absolutely flawless".
The inquest heard that Lois experienced "lock out", which is similar to when a kite suddenly loses control and nothing can be done to rectify it.
She then plunged to the ground and hit the runway at Darley Moor Airfield, sustaining a fatal head injury.
Before the accident Lois had sent a tweet saying, "In a great mood".
The inquest at Derby Coroner's Court heard how the high school student, who was from Great Sankey, had caught the "flying bug" during holidays with her parents.
She subsequently undertook a number of training courses and tandem flights and became a proficient paraglider pilot before turning her attention to hang-gliding.
The inquest jury returned a verdict of accidental death.