Bakewell: Costa Coffee 'not a threat to local traders'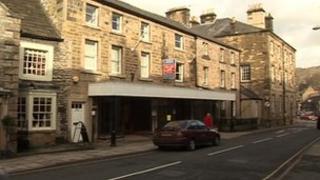 A national coffee chain which plans to open a branch in a Derbyshire town says it is "not a threat" to local traders.
A fight to keep Costa Coffee out of Bakewell has brought rival businesses together.
About 6,000 people have signed a petition against it. Costa pulled out of plans to open a branch in Totnes, Devon after a 5,000-strong petition.
A branch in Bingham, Nottinghamshire was recently given the go ahead despite over 2,000 signatories against it.
The Costa Coffee chain, part of Whitbread which also owns Beefeater, Brewers Fayre and Premier Inn, wants to open a shop in an empty Victorian building in King Street.
Residents and business owners against the chain moving to Bakewell said they were hoping to replicate the success of Totnes campaigners.
But Costa has said they had not pulled out of Totnes "solely due to the petition", despite previously having said it had recognised the strength of feeling against the brand.
It said its decision had been based on a specific set of circumstances for that particular town.
"Unlike Totnes, Bakewell has a number of chain stores in the town such as Boots, Thorntons, and The Outdoor Company", it said.
"We see no reason why a Costa store could not fit (there) comfortably... Our offering is very different to the local independent coffee shops and bakeries.
"We believe that people can and will use both, depending on their needs; something we have seen in the other towns in which we operate."
It said pro-Costa supporters, who had sent letters and emails "in support of us coming to Bakewell", would rather see the empty building used.
It also said it had a "huge role to play in local investment and employment in Bakewell and other communities up and down the country".
It said it employed over 11,000 people and would be creating an additional 1,500 jobs this year.