Two deny breaking the law banning fox hunting with dogs
8 August 2012

From the section

Derby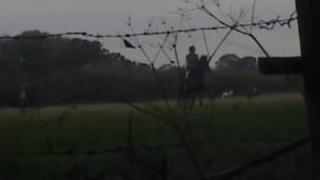 A Master of the Meynell and South Staffordshire Hunt has denied breaking the law which bans hunting with dogs.
John Greenall, 52, of Wootton near Ashbourne, Derbyshire; and hunt worker Glenn Morris, 44, of Tutbury, Staffordshire; deny hunting a wild mammal with a dog.
Derby magistrates heard that a video made by hunt monitors showed an illegal hunt.
But the defence said the hounds were exercising, following artificial scent.
Two hunt monitors filmed members of the Meynell and South Staffordshire Hunt at Sutton on the Hill, Derbyshire, last October.
Fox expert Professor Stephen Harris told the court that, on the video, the excited squeals of fox hounds could be heard inside the wood.
He said: "That sound is, they've found a fox, it's fresh, they're on top of it."
The case for the defence is due to begin on Thursday.