Derby City Council confirms debt will rise to £450m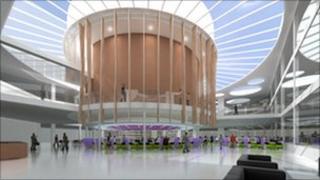 Derby City Council has said its debts can be paid off, despite admitting its borrowing would reach £450m within two years.
The authority is to build a £38m velodrome, £20m swimming pool and is spending more than £34m refurbishing its headquarters.
Bosses said current borrowing is at £330m, but they expect to borrow another £120m over the next two years.
The council said it would not allow borrowing beyond its means.
The council's strategic director for resources, Roger Kershaw, said: "We have, statutorily, to follow a prudential code which means the borrowing we incur has to be affordable."
Bankrupt authorities
He said that while £450m may seem large, the authority has assets of £1.1bn.
"If you liken it to a household account, that's not a bad mortgage to house value ratio," Mr Kershaw added.
A number of U.S. and European local authorities have declared themselves bankrupt after incurring debts of a similar size.
San Bernardino, in California, filed for bankruptcy protection last week while Stockton, also in California, filed for bankruptcy in June.
A number of Spanish authorities are also in financial difficulty after borrowing more than they could afford.