Derby City Council urges action on Bluetooth 'loophole'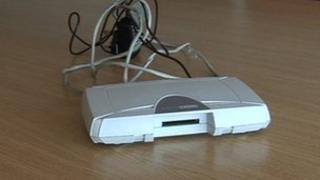 The owners of several empty business units in Derby are exploiting a legal loophole to avoid paying tax, the city council has said.
Council leader Paul Bayliss said seven buildings in the city had installed Bluetooth boxes to earn a reduction in empty property business rates.
The boxes, which transmit text messages to multiple mobile phones, allow empty units to be classed as occupied.
Mr Bayliss said the practice was denying the city "thousands of pounds".
At present the owners of empty business properties have to pay the full empty property business rate unless the building becomes occupied again for at least 42 days.
Having the boxes installed and transmitting short-range text messages allows otherwise empty properties to be classed as occupied for the 42 days, earning a three-month rates exemption for offices and six months for industrial units.
'Buildings demolished'
Mr Bayliss said he hoped to discuss the matter with MPs with a view to getting parliament to close the loophole.
He said: "It's tax avoidance and by the looks of things it's legal tax avoidance. We're working with MPs and officers from other authorities to try and shut this loophole down.
"You could say it's a smart way to avoid having to pay your taxes but I think most people realise in this day and age, we need every tax penny we can to avoid cutting services."
George Cowcher, chief executive of Derbyshire and Nottinghamshire Chamber of Commerce, said he wanted to see a reduction in business rates for empty properties.
He said: "You've got to have a supply of good quality available space for new businesses to open and operate from.
"If we are taxing that, you will see, in extreme cases, buildings being demolished because people are not prepared to pay the rates."