American Adventure site: new plan gets green light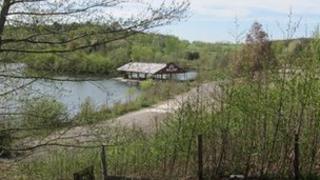 Plans to redevelop the site of a former Derbyshire theme park have been approved by the county council.
The land, in Shipley, housed the American Adventure until it closed in 2007.
Derbyshire County Council, which owns the site, has worked with developers on a "masterplan" which includes housing, offices and leisure facilities.
A planning application will be submitted to Amber Valley Borough Council later this year.
The county council has been deliberating on the future of the former American Adventure site, now known as Shipley Lakeside, since the park's closure five years ago.
BBC Radio Derby's political reporter Chris Doidge said he understood the masterplan included at least 500 homes, a small supermarket and a garden centre.
The new development would be surrounded by an extensive nature reserve on land sold to the Derbyshire Wildlife Trust.
Now the county council has given its blessing to the plan, developer Waystone can proceed with a planning application.
Kevin Parkinson, who sits as both the county council member responsible for regeneration and also the borough councillor for Shipley, said he welcomed new leisure facilities at the site but was concerned housing had become such a major part of the plans.
He said: "Shipley is a small parish between the districts of Erewash and Amber Valley - traditionally we call it a 'green lung'.
"The scale and size of the proposal of housing in Shipley Lakeside really would eradicate that green belt feeling here."
Waystone said it would start consulting with local residents on the plans in the next few weeks.