Derby's public art collection valued at £64m by Sothebys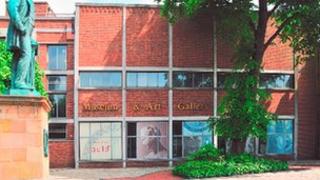 Derby's public artwork, which includes paintings by 18th Century Derby-born artist Joseph Wright, has increased in value by 64% in the past year.
The city-owned collection is estimated to be worth £64m compared with £39m in March 2011, city council figures show.
The Joseph Wright art collection was valued by Sothebys for insurance purposes, the city council said.
Councillor Robin Wood said there was no suggestion about selling off the collection to raise money.
Scientific drawings
Councillors described the Wright collection as "iconic" and a council spokesman said it had increased in value as a result of market forces.
"Selling off the collection would be awful - it is one of the greatest attractions in Derby," Mr Wood said.
"There are queues around the block when the collection travels to Beijing, Paris or New York," he added.
Roger Shelley, principal keeper at Derby Museums, said: "To insure that our insurance values are up to date we've had to revise up the figure.
"It is difficult to say what works like this - which are literally priceless - would go for at auction sale.
"We hopefully will never get to that stage and it is hoped these assets will be kept in trust by the city for perpetuity."
Mr Shelley described Wright as "an inventive creative artist" who produced a wide range of work including portraits, landscapes and scientific drawings.
He said some of Wright's works, which are stored at Derby Museum and Art Gallery, are kept in storage as they can be damaged by exposure to light.