Kinder Scout Mass Trespass's 80th anniversary marked
24 April 2012

From the section

Derby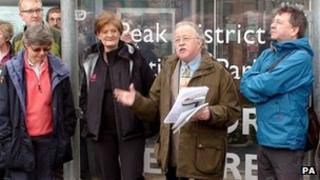 Celebrations are taking place to mark the 80th anniversary of a mass trespass which helped open up large areas of countryside to the public.
The 1932 protest saw groups of ramblers scuffle with gamekeepers on the Kinder Scout mountain in Derbyshire's Peak District.
The walkers were angry at being denied access to public land.
The campaign eventually led to the creation of National Parks in England and Wales from 1951 onwards.
Anniversary celebrations include a gathering of hundreds of ramblers and a recreation of the famous protest.
Ramblers jailed
The mass trespass, on 24 April 1932, saw two groups of walkers set off from the Derbyshire villages of Hayfield and Edale to traverse the 2,000ft high mountain.
There were confrontations with gamekeepers employed by the Duke of Devonshire and five ramblers were jailed for their part in the protest.
A few weeks later 10,000 ramblers assembled for an access rally in the nearby Winnats Pass.
The movement eventually saw national parks established in England and Wales - starting with the Peak District in 1951.
The Kinder 80 Festival features more than 30 walks and a gathering in Edale featuring speeches from broadcaster Stuart Maconie and Kate Ashbrook, president of walking organisation, Ramblers.
Event organiser Roly Smith said: "The Mass Trespass in 1932 was the iconic event in the century-old battle for the right to roam on the mountain and moors.
"I believe we should never forget the sacrifice made by the young lads from Manchester who were arrested and imprisoned for walking on the moors."