Midland Railway's 'Royal' steam locomotive can ride again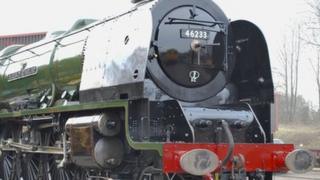 A 1930s steam locomotive which has been used to pull the Royal Train is being rolled out following an overhaul.
The Duchess of Sutherland became the first steam locomotive to haul the Royal Train for 35 years when it transported the Queen as part of her Golden Jubilee in 2002.
The locomotive has been taken apart, put back together in safe working order and restored to an authentic green.
Crowds are expected at Midland Railway, near Ripley, Derbyshire to see it.
Kate Watts, museum curator for the Princess Royal Class Locomotive Trust (PRCLM) which owns the train, said: "Steam locomotives have got a character to them which modern diesel trains don't.
"They are noisy and you get the smell of the smoke and the steam. They've got a bit of life in them; a bit of character rather than just being a bit of machinery.
"We get fields full of photographers waiting for it to go by and take photographs."
The Duchess of Sutherland was built in 1938 in Crewe and used by the London Midland and Scottish Railway (LMS) company.
In 1948 it went under the ownership of British Railways, when the LMS was nationalised.
Saved from scrap
The Duchess of Sutherland was withdrawn for scrap in 1964 but saved by Billy Butlin, who bought it for his Heads-of-Ayr holiday camp, in Scotland.
"It would have been scrapped but he wanted to put it on a static pedestal for kids to go and climb on," said Ms Watts.
The locomotive went to Bressingham Steam Museum, in Norfolk, in 1971, and stayed there until it was acquired by PRCLM in 1996 and brought to its current home at Midland Railway.
In 1998 the trust received a grant to restore it to working order, which was completed by 2001.
It transported the Queen from Holyhead to Llandudno Junction on 11 June 2002.
On 22 March 2005 the Prince of Wales rode on the footplate of the Duchess during a trip on the Settle-Carlisle Railway - the second time for a steam locomotive to transport the Royal Train in 40 years.