Hate leaflets: 'I thought gay death call was aimed at me'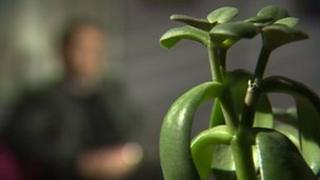 A gay man from Derby has described the moment he fled his home in fear after a leaflet calling for homosexuals to be executed was put through his door.
He was one of many people who reported the leaflets, distributed by a group of Muslim men, to police.
Three men have now been found guilty of stirring up hatred on the grounds of sexual orientation.
Ihjaz Ali, 42, Kabir Ahmed, 28 and Razwan Javed, 27, were found guilty at Derby Crown Court.
The man, who cannot be named for legal reasons, said he initially thought the leaflets were aimed at him.
He said: "I'd been out that evening, came home and found the leaflet at about 21:30 at night.
"On it was a picture of a burning man in a lake of fire and the title of it was Turn or Burn.
"At that point I didn't realise it wasn't aimed at me personally - it was only later that I realised it had been distributed more widely.
Firebomb fear
"Initially I didn't know what to do. I rang a couple of friends who told me to ring the police, which I did.
"Their initial question was whether I was going to stay at home that night and I thought 'probably not' so I grabbed a load of stuff in a bag and went to my partner's house."
The man said he was shocked by the content of the leaflet.
He said: "It really did frighten me. At first I didn't read it in any great detail but you could get the general gist of it from the imagery and the slogan.
"Then when I started to look at it deeper, I thought there must be someone out there with a real hatred - maybe of me.
"It sounds dramatic but I had visions of firebombs being thrown through my windows."
'Quite angry'
As the three leaflets were distributed around Derby, police received many more complaints from people appalled by the messages.
The man said he was still upset by the literature created by the three men but could also see an upside to the trial.
He said: "I feel quite angry that it was felt appropriate to distribute stuff that was primarily intended to stir up hatred.
"I can't see how it could have been intended to do anything else with those slogans.
"But hopefully the message that comes across is that we need to live in a society where everyone can feel safe and not threatened because of who they are or what they are."
Andy Cave, chief executive of gay support organisation Derbyshire Friend, paid tribute to the victims who gave evidence at the trial.
He said: "The witnesses who have gone to court have been really brave to put themselves forward to report these kind of instances.
"We should congratulate them on doing that.
"Seven out of 10 LGBT people in the past three years have suffered some sort of hate crime because of their sexual orientation or gender identity.
"So this hitting the headlines is actually a really positive thing to raise awareness and tell people that they can get support in bringing it to the police.
"Hopefully as a result of this trial, more and more people will start to report hate crimes and the more people that do, the more trials we will see."