Bridge moved into place over River Trent in Derbyshire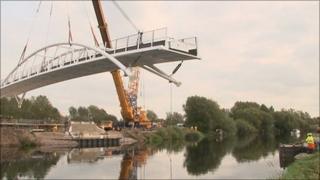 A £4m bridge has been lifted into place across the River Trent in Derbyshire.
The 60-tonne bridge was moved into position by heavy cranes at Shardlow near Derby.
The previous crossing, known as Long Horse Bridge, was removed in 2002 which left residents without easy access to communities across the river in Leicestershire.
The bridge has a span of 52m (170ft) and was paid for by British Waterways and Derbyshire County Council.