Derby City Council to fund Bombardier judicial review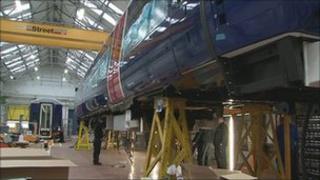 Derby City Council has agreed to fund a potential legal review over a decision to award a £1.4bn contract for railway carriages to a German firm.
The authority said it would support a move by labour union Unite to challenge the government.
The union is seeking to overturn the Department for Transport's decision to award the Thameslink deal to Siemens over Derby-based Bombardier.
City councillors voted unanimously to back the move.
£6bn deal
The council, which is run by a coalition of Conservatives and Liberal Democrats, said the union needs to put together a strong case.
Council leader Philip Hickson said the authority decided to work with Unite after taking advice from lawyers.
"We took some advice about the possibility of a judicial review because we think that's the next legitimate step that can be pursued to challenge the Thameslink decision."
The government has defended its decision to name Siemens as its preferred bidder for the contract as it offered taxpayers better value for money.
Canadian-owned Bombardier, which employs 3,000 people in the city, said it was reviewing its operations.
The £6bn North-South cross-London Thameslink programme will require 1,200 new carriages.