Mace chosen for Pride Park velodrome contract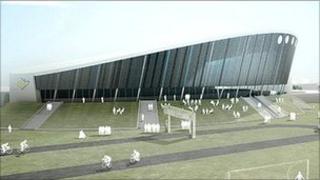 Work on a new velodrome and sports arena at Pride Park will begin next year after Derby City Council named its preferred bidder for the project.
Construction firm Mace has been given a £20m budget for the centre, which will feature a 250m track which can double as a 5,000-capacity concert hall.
The city council said building a new arena made more sense than repairing Derby's existing sports facilities.
The authority is yet to announce which current centres will close.
The new arena will be built on the site of a council-owned park and ride and will also incorporate badminton courts and dance studios.
Shakespeare Theatre
Hilary Jones, deputy leader of Derby City Council, said: "A lot of our sports facilities around the city are many years old so we either needed to repair or rebuild.
"We decided to rebuild because in the longer term that's going to offer better value for money.
"If you have a completely new facility you can factor in all sorts of things like energy-saving and modern standards so that hopefully it will last for many years."
Mace has previously worked on the refurbishment of Derby's Council House and the velodrome for the London 2012 Olympics.
It has also worked on Birmingham's New Street station and the Royal Shakespeare Theatre in Stratford.
Ms Jones said nine companies submitted bids for the project but Mace impressed with its designs and offered the best value for money.