Derby Bombardier boss backs union march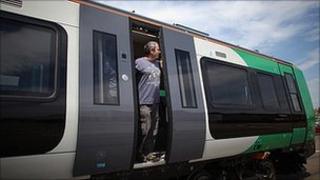 The boss of Derby train maker Bombardier said he is supporting a march by unions as the loss of a major contract is not a "done deal".
The company plans to cut 1,400 jobs after it missed out on a £1.4bn government contract for carriages.
Bombardier UK's chairman Colin Walton, said there was still time for public pressure to make a difference
However, David Cameron, who met with Derbyshire MPs this week, has insisted the decision cannot be changed.
The government has said it is legally bound to continue with the Thameslink project with German engineering giant Siemens as preferred bidder.
'Important step'
Unions have organised a march through Derby on Saturday to emphasise popular support for the company and its importance to the economy.
This comes after 50,000 people signed a petition urging the government to look again at the contract.
Mr Wilson, who confirmed he would be on the demonstration, said there were still options open.
"The main point for us is that Thameslink is not a done deal. It is still at the preferred bidder stage.
"We are reserve bidder and we are very hopeful that in the negotiations that take place, there may be issues where we may get called upon and we are ready to step up."
He added: "As long as it is happening there is still hope and we are still here."
However Mr Wilson welcomed the prime minister's suggestion that future contracts for the London Underground and Crossrail may be brought forward as "an important step".
Police in Derby said they were working closely with the city council and the organisers of the march to ensure the march went smoothly.
It starts at Bass' Recreation Ground at 10:00 BST, moving via the Cornmarket before a rally on Cathedral Green.