Derby day care centre closure approved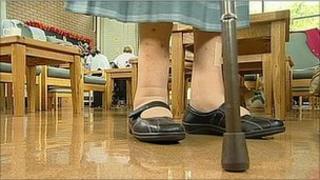 Plans to close a day care centre for the elderly in Derby have been approved.
The Whitaker Centre will be shut and users sent to the Morleston Street centre, due to budget cuts.
The council has suggested volunteers could look after older people in their homes but carers and residents have said a valuable service was being lost.
The Conservative-Liberal Democrat council will now hold a consultation over the plans.
Cath Roff from Derby City Council said: "At this time of economic austerity we are looking to make the best use of our resources.
"Therefore it seems to make far more sense to close one of the centres and have a full and vibrant remaining centre."
The Labour group said predictions of an aging population meant demand for such centres was likely to grow.
The authority is implementing a £27m, two year, savings plan.
More than 620 posts have already been lost from a workforce of about 10,000.