Hospital appointments missed due to parking space woes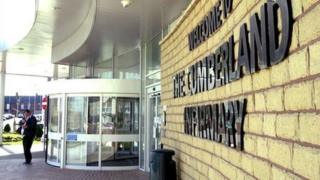 Hundreds of new parking spaces could be created at two hospitals in Cumbria, after complaints from patients.
Patient support group Healthwatch Cumbria said a shortage was affecting the most vulnerable people attending Cumberland Infirmary in Carlisle, and Whitehaven's West Cumberland Hospital.
It was also causing missed appointments and costing the NHS time and money.
North Cumbria University Hospitals Trust said it had made a commitment to improve the situation.
The trust is carrying out a review, and considering adding 400 spaces at the Cumberland Infirmary, as well as moving patient parking closer to the entrance.
Options at the West Cumberland Hospital, which is undergoing building work, are also being discussed.
'Causing stress'
Dr Mark Hoelterhoff, chairman of the patient support group Healthwatch Cumbria, said there had been large numbers of complaints.
"People who might be elderly are parking very far away", he said.
"They are then having to walk to the infirmary and it's causing stress.
"Then there are the disabled, who are unable to find dedicated parking, and end up have to navigate and negotiate out of their cars in too-tight spaces."
He added: "We have even had people driving around to find a space and don't even get to their appointment, which is costing the NHS both time and money."
Gail Naylor, from the North Cumbria University Hospitals Trust, said: "We absolutely recognise what an important issue it is for our patients, and have made a commitment that we are going to improve the situation.
"It may be that we consider a variety of solutions, both on-site car parking and other options, and that is what we are looking at with partners such as the council."