Striding Edge repaired with stones dropped by helicopter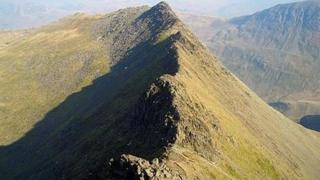 Stones will be dropped from helicopters to repair damage at a Lake District peak.
The path from Striding Edge to the 950m (3,117ft) summit of Helvellyn has been eroded by walkers and climbers.
Because of its height and location materials can only be delivered by air, the Lake District National Park Authority said.
Management leader Chris Tomlin said the route would not be closed but marshals would stop walkers during the drops.
"Obviously this is a hugely popular route and we aim to keep disruption to a minimum," he said.
"However, safety is our main priority. The ridge is challenging terrain at the best of times."
Because the weather at the summit can change rapidly it will be a "case of seizing the opportunity when it presents itself", Mr Tomlin said.
The delivery will take place at some point between 23 April and 9 May.